Hello, and welcome to my online portfolio. Here you will find my teaching philosophy, education, experience, relevant prior career highlights, work samples, and personal information.

In 2018, I received a Master of Arts in Teaching in Elementary Education, from Rhode Island College. I look forward to a teaching career, bringing years of experience as an industrial designer, creative problem solver, artist and musician to my classroom.

I believe that my foundation in the STEAM disciplines will enhance my work as an elementary educator, and help achieve my mission to inspire students with joy for exploration and discovery every day, and the lifelong love of learning.

Above: "Musical Read Aloud" about musician Charlie Parker, with saxophone playing for context.
Below: First grade students sharing collage pieces they created in my afterschool art class.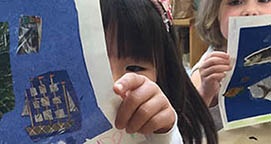 If you are visiting to learn more about me in consideration for a professional opportunity in elementary education at your school, please feel free to contact me directly with any questions or requests for additional information.